An Updated Look and Feel
Single-line text on the tools menu is easier to read and requires less scrolling.
It is now easier to select favorite course sites, which appear as buttons at the top of the desktop view.
New course sites can be set to automatically appear in your favorites list (like at the start of the semester).
New Tools
The 

Attendance Tool

 allows instructors or teaching assistants to quickly track who is in class, who is late, and who is not there. Points can be added or subtracted from an overall attendance grade in the Gradebook tool. Instructors can also print blank sign-in sheets customized to their courses.
The new 

Commons Tool

 is a simple communication tool that allows students to have short conversations with their peers and their instructor. Unlike the Chat or Forums Tools, the Commons is designed as a simple chat log-- no topics, threads, or grading.
Improved Tools
Assignments:

 The tool now includes a trashcan feature, making it possible to retrieve an accidentally deleted assignment. Options on the edit page were reorganized to improve workflow. Instructors now have the option to have comments included in the email notification included when grades are released. Instructors now can grade assignments anonymously.

Gradebook:

 Improvements make the Gradebook far easier to navigate-- the horizontal scroll bar now appears at the bottom of the screen, not the bottom of entire roster. An "Item Order" button now allow you to reorder within categories.

Lessons:

 New widgets can connect Lessons pages more closely to other tools in ReggieNet. These new options include links to folders in the Resources tool, and the ability to embed the Announcements tool, Calendar tool, and the most recent Forums conversations. There is also an option to include expandable subpage links in the left-hand navigation.

Tests & Quizzes

: Instructors can now give students more time or additional opportunities to take an assessment within an existing quiz-- no need to create and publish a new copy!
The Clog tool will not be compatible with the major upgrade to ReggieNet, scheduled for later this summer. Because of this, our ReggieNet vendor will install an alternative Blog tool the morning of Sunday, May 20 2018. We apologize for this change so close to the beginning of summer classes.
What Does This Mean for You?
After July 26, the Clog tool will no longer function in ReggieNet.
If you plan to use the Clog tool in a course that will still be in session at that time, you should use the Blog tool instead. In addition, to prevent confusion, the Clog tool will be removed from the tool menu on all summer and fall courses (meaning neither you nor your students will see it on the left-hand tool menu). You can add the Blog tool manually by going Site Info > Manage Tools.
If you do NOT plan to use the Clog tool, then you do not need to take action. This issue affects only the Clog tool and none of ReggieNet's other tools.
Getting Help
Again, we apologize for this unexpected change. We recognize its timing is inconvenient for some instructors. The Center for Integrated Professional Development is ready to help.
A guide to using the Blog tool is download. To consult with a member of the ReggieNet team about transitioning from the Clog tool to the Blog tool, email ProDev@ilstu.edu or call (309) 438-2542 during normal business hours.
Starting this semester, students and instructors will use a new grade book tool (simply called Gradebook). The new Gradebook in ReggieNet sports a new interface, but the underlying structure is the same as the now-retired Gradebook 2.
New features include
A more spreadsheet-type look
Student names stay in place during horizontal scroll
Entry of values greater than the item's point value (extra credit)
Display of students' total points (for instructor)
Display to student of overall course Grade, percentage, and/or total points in any combination
Display of student's percentage for each category
Set zero scores for empty cells for entire gradebook
Course grade override log
"Keep highest"  and "Drop highest" score(s) option for a category
Learn more about the new Gradebook in this handout or by attending a workshop.
The Spring Break 2017 update added a new Gradebook tool, which will eventually replace the old "Gradebook 2" tool. Some users have reported that their classes have been set for Pass/No Pass instead of letter grades. To change this in either grade book, please do the following:
Go to Site Info then click Manage tools. Select Gradebook, then Continue, and then  Finish.
In Gradebook, click Settings and select grading schema. For grade type,  change it to letter grade and change the minimum percentage accordingly, then click on Save Changes.
Go to Site Info again and click Manage Tools again and this time, deselect Gradebook. The change you made in Gradebook carries over to Gradebook 2.
ReggieNet remains largely unchanged since its last major update over the winter of 2015. More importantly, the system has remained strong and stable since then. ReggieNet is ready to help you teach and to help your students learn this fall. A few reminders:
Step-by-step instructions on how to get started with your ReggieNet course site are available on the Start Your Semester page.
After a recent upgrade, some instructors may see duplicate tools listed on the left-side menu in their ReggieNet course site. Duplicates can be removed by going to Site Info > Edit Tools and unselecting the duplicate entries.
Starting Fall 2016, documents created in or uploaded to the Syllabus tool are "published" to students by default. 
If you use SCORM-based modules in ReggieNet, you may need to reload them to the system.  Read more about changes to the SCORM Cloud tool.
SoftChalk users need to upgrade to the latest version of SoftChalk Create (ver. 10) and repackage and reload their modules into ReggieNet. Contact your department IT support person for help getting updated software. 
While unrelated to ReggieNet, the system that allows users to reset their University password will be unavailable the morning of Sunday, August 21.
SoftChalk users need to upgrade to the latest version of SoftChalk Create (ver. 10) and repackage and reload their modules into ReggieNet. Contact your department IT support person for help getting updated software.
When you log into ReggieNet, you'll notice a new look and a few new features.
Some instructors have encountered errors when trying transfer data from old courses to new ones. Two specific issues concern the Gradebook 2 and Resources tools. While we believe these issues should be resolved soon, there are steps instructors can utilize now to manually move this data.
Resources tool - copying content from an old course site to a new one:
Open the course in ReggieNet that the resources will be copied to.
Click on the Resources tool in the left hand tool bar of the course.
On the main Resources page, scroll to the bottom of the page and click on Copy Content from My Other Sites to view resources from other courses.
Identify the course from which to copy resources and click on the yellow folder for that course to view the materials contained in the Resources tool for that course.
Check the boxes to the left of the folders that are to be copied. This will enable the copy button at the top of the list of folders in Resources for this course.
Click on the copy button. This will reset the page to the course Resources tool to which the files are to be copied.
At the top of the list of folders in Resources, click on the clipboard icon associated with that folder or click the Actions drop down menu for that folder and select Paste copied items.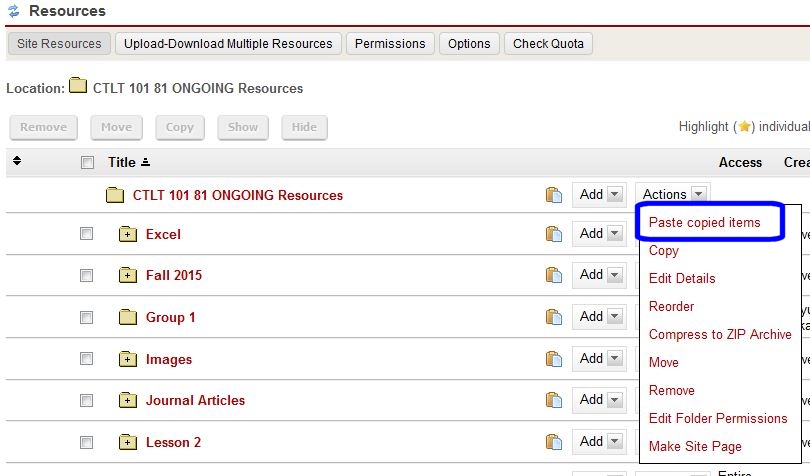 If you experience technical issues, please contact the Technology Support Center, as usual. If you have questions related to teaching with ReggieNet please email ProDev@ilstu.edu.
Spring 2016 Updates
As part of the migration to a new hosting service, ReggieNet will be upgrades to the latest version of Sakai. This means users will experience an enhanced interface and several new features.
Course Sites
Instructors can now access their course sites for the spring semester. Go to ReggieNet.IllinoisState.edu and click on the "My Active Sites" tab on the right of the screen.
Please remember that you will only see your spring courses if you have been designated as the instructor of record for your department.
Tools Changes
As we announced last spring, three tools will be retired and no longer available starting next semester. Plan on using the replacements for these tools, which are already in service:
The Modules tool will be replaced by the Lessons tool.
Discussion Forums will be discontinued; the similarly named Forums tool will remain.
The Blogs tool will be replaced by the Clog ("Community Blog") tool.
Workshops are available to help you transition from the Modules tool to the Lessons tool. In addition, consider:
Course Combination Requests
If you wish to have two or more Spring 2016 courses combined into one ReggieNet site, there is a new process for submitting requests. A step-by-step help guide (PDF) is also available.