Padlet
Padlet is a web-based program that allows you to organize content for viewing in multiple layouts, including website, bulletin board, blog, or portfolio. The program is available in three different pricing plans for individuals, schools, and companies.
Padlet's general features include: Colorful and flexible layouts
Easy edit with one-click, copy/paste, and drag and drop
Compatible with multiple file types
Sight, sound and touch enhancements
Network with other contributors
Manage access and shares
Autosaved changes
Link material easily
Available in 29 different languages
Online or mobile app use
How to Get Padlet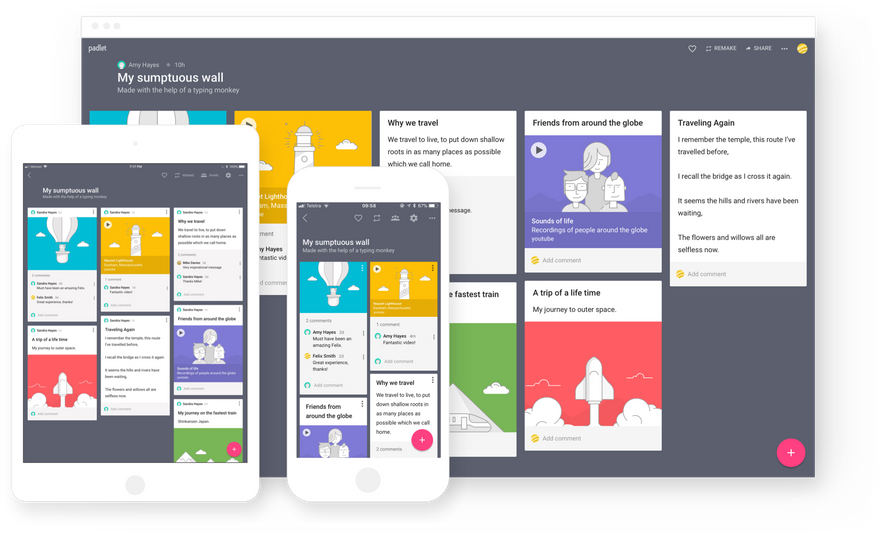 Padlet is accessible online. No restrictions are listed on the Padlet site.
How to Get Padlet
Illinois State University has secured a limited number of Padlet licenses for instructors' use. 
Use this form to request a license. If you already have material on Padlet, please indicate so, and you'll received instructions about importing that material to your new license.  
How-to Materials
Handouts
View this Padlet board for helpful hints.
Padlet provides articles in on its Help Page for multiple topics including getting started, exporting/sharing, privacy, and more.
Videos
This short video explains how you can use Padlet.
More how-to videos are available on Padlet's YouTube channel.
Find Help
The Center provides technical support for instructors. If you have any additional questions, please contact us at (309) 438-2542 or ProDev@ilstu.edu.
Additional troubleshooting articles are provided on the Padlet Help page.
Check out these links for examples of how to use Padlet: