Managing Online Meeting Behavior
While communication tools like Zoom provide powerful ways to supplement face-to-face instruction, they can also pose unique challenges to establishing safe, welcoming, and respectful learning environments.
Reports of "Zoombombings" highlight the need to prevent unauthorized access to course meetings and quickly deal with disruptions, should they occur. Broadly defined, a Zoom bomber is one who engages in aggressive or disruptive behavior, whether through speech, text, or imagery, during a synchronous online meeting.
Creating a Secure Meeting
Instructors can take precautions when creating meetings to ensure only their students can access an online class sessions.
Require Authentication
Instructors are encouraged to enable the "Require authentication to join: ISU Login" option when setting up meetings. This setting provides additional security, allows for accurate attendance reports, and is critical for pre-assigning Breakout Rooms.
Create your Zoom Meeting through Canvas
Using the Zoom integration in Canvas puts vital meeting information behind the University's password system, making it much less likely that uninvited guests will be able to access your live session. (see Creating an Online Meeting)
Avoid Emailing Zoom Invites or Meeting IDs
Remember, anyone who has a meeting link can access a meeting. Avoid sending invitation links or meeting ID numbers to students unless there are special circumstances (e.g., a student does not have internet access and needs to attend by phone).
Avoid using your Personal Meeting ID
When setting up a Zoom meeting, you may see an option to use your Personal Meeting ID (PMI). This is a meeting link which never changes or expires. By not selecting this option, Zoom will instead assign a random, more secure ID for your meeting.
Use Waiting Rooms
You have the option of using Zoom's Waiting Room function, which holds students outside the meeting until you allow them to enter. This may be useful for small-size classes or online office hours. It may not be practical for larger courses. Note: The Waiting Room function must be set up when the meeting is scheduled.
Communicate Expectations of Behavior
Some students may show poor judgement when it comes to behavior in online learning environments. The online environment may seem, to them, much more akin to certain online social spaces in which uncivil behaviors are tolerated or even encouraged, rather than a classroom. Clearly communicate your expectations for respectful behavior during class. In stressful times, everyone can use a reminder.
Be open to your students about the extraordinary nature of the current circumstances and express your confidence that they can rise to the challenge.
Make it clear that the online environment requires the same level of behavior as the face-to-face one.
Remind students that the mediated nature of the class makes it easier to misjudge when our speech (or actions) are unproductive or even harmful.
Managing Inappropriate Behavior in Meetings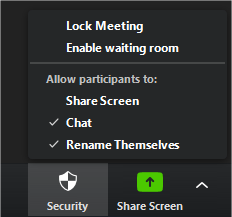 Zoom's meeting tools provide several options for preventing disruptions or intervening when unacceptable behavior occurs. For step-by-step instructions on using these features, see Best Practices for Managing and Protecting A Zoom Meeting.
Note: Some functions can now be controlled in meeting using the recently added Security button. These include: Lock Meeting, Enable Waiting Room, or allowing Share Screen, Chat, and participants to Rename Themselves.
Muting Participants
You have the ability to mute all or individual participants in a meeting. You can also prevent participants from unmuting themselves.
Limit Screen Sharing
You can ensure that no one takes over the screen by limiting screen sharing to Host.
Remove Participants
If a participant is being disruptive, you can remove them from the meeting.
Lock meetings
You have the option of locking a meeting to prevent additional participants from joining. This is helpful to prevent someone you've removed from returning. Note: Students who drop out of the meeting due to connectivity issues may not be able to return to a locked meeting.
After an Incident
Immediate Response
Equally important to dealing with disruptive behaviors quickly is to address the incident with the rest of the class once the moment has passed. Acknowledging the incident is almost always better than not reacting at all.
It may be enough to acknowledge the incident and move on.
If you need to compose your thoughts, it's okay to say, "I will need to think about this. We will discuss this later." Consider following up with an email to the class as soon as possible.
For more suggestions, see Responding to Challenging Classroom Incidences.
After the Session
After the moment, consider what action you need to take...
...about difficult conversations that could potentially lead to dialogue about social issues
...about comments that deliberately and negatively affect the learning environment
...when a comment is a threat or slurs that become harassment
What it looks/sounds like
The comments made in class are due to misinformation or thoughtlessness of students
An opinion or stance is expressed that might be considered a microaggression against another student 
What to do:
Explore resources to help manage this situation (Warren, 2006)
Contact The Center for Integrated Professional Development:
What it looks/sounds like
Discussion has gone beyond civil and a teachable moment and the learning environment is disrupted
Student's behavior could be a violation of ISU's Code of Student Conduct
What to do:
What it looks/sounds like
Intimidation- a person uses words that threaten another's safety
See ISU PD's definition of Hate Crime
What to do:
Note: The University can help identify disruptive users. Email Abuse@IllinoisState.edu for assistance.
For additional ideas about managing difficult classroom conversations and challenging moments, listen to this podcast episode.