Flip
Flip (formerly called Flipgrid) is a social learning platform to create virtual learning communities such as classrooms, schools, or departments to share ideas and discuss topics with Flip.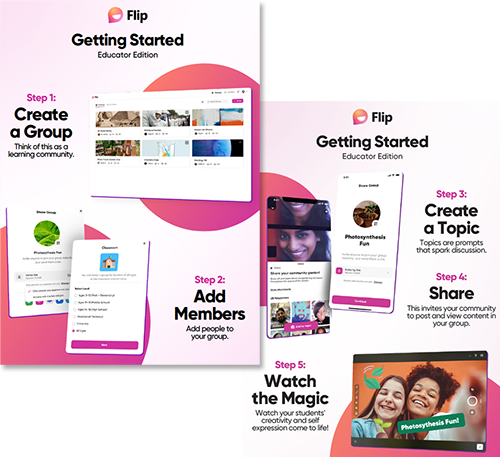 Flip is licensed through Illinois State's Office 365 accounts, so instructors can access the full features for free.
Create custom learning communities in Groups and share with a custom code, auto-generated code, or QR code.
Create topics for interaction, presentations, book reviews, discussions, etc.
Learners share their ideas through videos.
Camera application (Shorts) built into the Flip platform.
Share and interact with your learning community with QR codes.
Guest Mode to include guest speakers for topics.
How to Get Flip
Follow the Educator Toolkit to get started
Download this Step-by-Step Guide for Educators
Select signup through the Flip website.
Using your University Microsoft account, log in, and create a profile.
Handout: Flip signup and adding to ReggieNet
How-to Materials
Handouts
For more information, download The Step-by-Step Guide for Educators through the Flip website.
Videos
See Flip's Educator Toolkit to get started, get inspiration and support, and spread the word with On-Demand Training in English and Spanish.
Find Help
The Center for Integrated Professional Development also provides Flip technical support for instructors. If you have any additional questions, please contact us at (309) 438-2542 or ProDev@ilstu.edu.
From Flip's blog, find additional resources for help.
Last updated: June 28, 2022
Last updated: June28, 2022
Last updated: September 11, 2018
For more information on Flip and Accessibility and  Read their Accessibility Pledge post!