2007 CTLT Annual University-Wide Symposium on Teaching and Learning
Wednesday, January 10, 2007
DoubleTree Conference Center
Bloomington, IL
Civic Engagement in Classrooms and Communities
All members of the Illinois State University teaching community are invited to begin the spring semester with a day of rewarding, re-energizing, and thought-provoking conversations at the Seventh Annual Symposium on Teaching & Learning.
This year's theme is "Civic Engagement in Classrooms and Communities," and our keynote speaker is Dr. George Mehaffy, Vice President of the American Association of State Colleges and Universities and founder of the American Democracy Project.
In keeping with this theme, we encourage faculty, teaching assistants, and professional staff to share the results of and insights gained from recent projects, research, and teaching experiences. Especially welcome are presentations addressing theme-related issues such as: What responsibilities do we have as educators in and for a democracy, and how do we meet them? What do we mean by 'civic' engagement? What do we mean by 'communities'? How is civic engagement similar to or different from other kinds of engagement? How do our notions of 'classroom' and 'community' intersect—and diverge? How can we model civic engagement for our students—and why should we?
Last year's Teaching & Learning Symposium was the largest yet, and we hope to see even more members of our community at this year's event. Please mark your calendars now and plan to join us for this exciting day of intellectual and social interchange.
Co-Sponsored by:
Keynote Speaker
Biography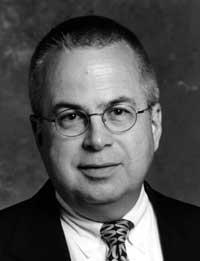 George Mehaffy serves as the Vice President for Academic Leadership and Change at the American Association of State Colleges and Universities (AASCU). His division is responsible for a number of special programs and projects for AASCU presidents and chief academic officers in the areas of leadership and organizational change in higher education, focusing on issues such as technology, teacher education, international education, and civic engagement. He organizes and directs two national conferences annually for AASCU chief academic officers and manages a variety of leadership programs and special projects. Some of his recent projects have included a comprehensive partnership program that paired AASCU institutions with Chinese universities; an articulation and transfer initiative with the American Association of Community Colleges, a multi-state project on evidence in teacher education, a collaborative effort with two other national organizations on graduation rates, and a series of technology conferences involving university teams at the University of Central Florida.
Much of his current work focuses on civic engagement in higher education. In 2003 he launched a civic engagement initiative, the American Democracy Project (ADP), in partnership with The New York Times, involving 214 AASCU institutions representing 1.8 million students. That project has generated a broad range of national and campus-based activities, including 10 regional and 4 national meetings, a Wingspread Conference that created a monograph for senior university leaders, a partnership with the National Survey of Student Engagement (NSSE) to develop an instrument to assess civic engagement, and a trip to eastern Europe to develop university partnerships to promote civic engagement. Recently the project created a series of new initiatives, entitled Civic Engagement in Action. Three current initiatives in that series include the Political Engagement Initiative, an effort to create opportunities for political engagement throughout the curriculum, a partnership with Tom Ehrlich and the Carnegie Foundation for the Advancement of Teaching; the 7 Revolutions initiative, a global studies project, a partnership with the Center for Strategic and International Studies (CSIS); and Politics and the Yellowstone Ecosystem, a study of political management of scarce resources, a partnership with the Yellowstone Association.
Additional Materials
Session 1, 9:00–9:50
Session 2, 10:00–10:50
Session 3, 11:00–11:50
Session 4, 2:00–2:50
Session 5, 3:00–3:50
Session 6, 4:00–4:50